Personal Representative for the Valley of Covington…
---
Raymond Murphy 33°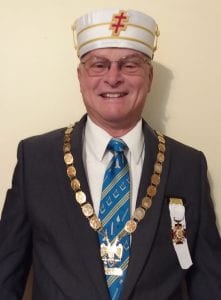 ---
Biography of Raymond Murphy 33º
Ray was born, raised and currently lives in Covington, approximately one half mile from the
Covington Scottish Rite Temple. Ray graduated from Holmes High School in 1969 having
attained honors in both academics and athletics. He is the father of four children, one of which
is a Scottish Rite Mason. He is a proud member of Trinity United Methodist Church in
Covington.
Ray attended Centre College for one year, was drafted into military service and served with
the 82nd Airborne Division as a communication specialist. Upon returning to civilian life, he
enjoyed a successful and rewarding career in law enforcement, spending a combined thirty one
years with the Covington Police, Kenton County Sheriff and retiring as Chief of Police of the
City of Ludlow.  During this time, Ray enjoyed the experience of belonging and participating in numerous
professional, civic and community service organizations to include: Covington Lodge No. 1
Fraternal Order of Police serving as its secretary, vice-president and president; Kenton County
Lodge No. 20 Fraternal Order of Police; Lobbyist for the Kentucky Fraternal Order of Police;
Kentucky Peace Officers Association; International Association of Chiefs of Police; American
Legion Post 203, serving as Adjutant and Post Commander; treasurer of Holmes Alumni
Association; Covington Education Foundation; Tom Ellis Athletic Memorial Foundation;
Moose Lodge No. 1469; Covington Turners Society; National Rifle Association; Honorable
Order of Kentucky Colonels; Devou Park Advisory Board; volunteer coach for Holmes 7th/8th
grade football team; high school football official and volunteer for the "chain crew" at Holmes
football games.
Ray has served the "Masonic" family in several areas. They include: Past Master of
Covington Lodge No. 109 and Golden Rule Lodge No. 345; and current Master of the
consolidated Lodge of Golden Rule/Covington Lodge No.109; member of William O. Ware
Lodge of Research No. 999; Past President of the Northern KY Past Masters Society; Past
Venerable Master of Delta Lodge of Perfection, Scottish Rite ,Valley of Covington; Past
President of the 1200 Club of the Covington Scottish Rite; Commander, Covington
Commandry No. 7 Knights Templar; High Priest, Covington Chapter No. 35 Royal Arch
Masons; Past Illustrious Master of Kenton Council No. 13 Royal and Select Masters;
President of the Northern KY Allied Masonic Funeral Corp; Past Patron and current Chaplain
of Rosebud No. 39 Order of the Eastern Star; Deputy Grand Patron District 3 of the Order of
the Eastern Star of Kentucky; member of El Hasa Shrine; Red Cross of Constantine;
Kentucke Council 71 Knight Masons; Royal Order of Scotland: Societas Rosicruiana In
Civitatibus Foederatis; Knight Commander Court of Honor and Thirty Second Degree
Scottish Rite Mason, Valley of Covington.